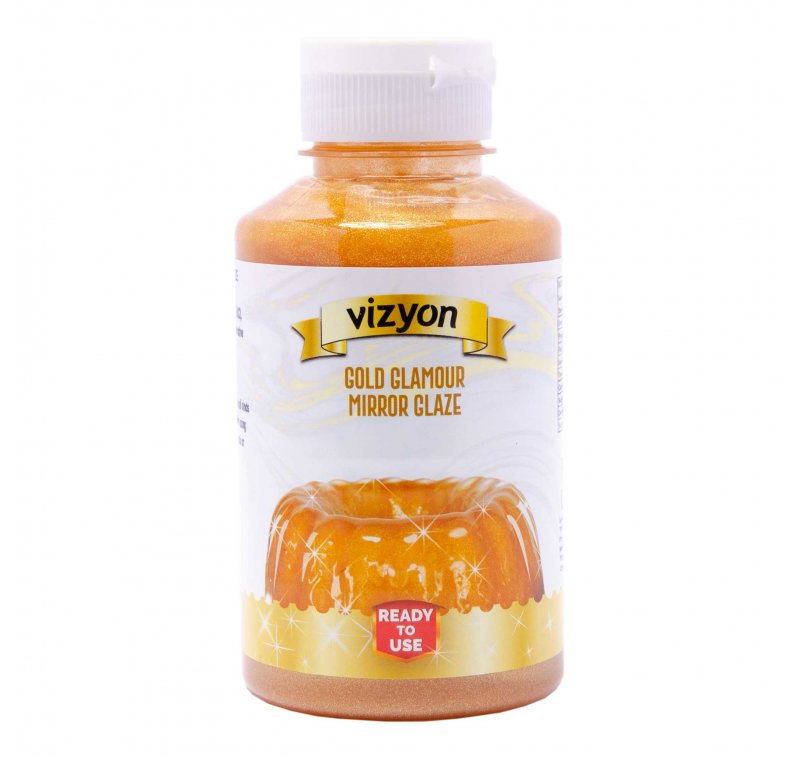 Vizyon Mirror Glaze - Gold Glamour 500gr
Vizyon Ready to Use Gold Glamour Mirror Glaze gives your cakes and desserts a glittery, glamorous glaze in an instant. Mirror Glaze not only gives a gorgeous, shimmery appearance but also seals in freshness. The Gold Glamour Mirror Glaze has a neutral flavour.
Vizyon Mirror Glazes are ready to use straight from the bottle, with no water needed, resulting in a glaze that has:
no air bubbles
a more shiny and smoother appearance
a more stable finish after application to cakes with no rubberisation of the glaze
Use your mirror glaze for drip cakes, adding colour, even glazing fruit tarts with a shiny covering that will preserve their freshness. Enhance the appearance, colour, shine, and flavour of your cakes and pastries. In addition Vizyon Glazes will reduce moisture loss and maintain a long-lasting shine.
Vizyon Glazes are freeze-thaw stable. Best of all, the Ready to Use Glaze is gluten free and vegan, with no animal by-products.
INSTRUCTIONS:
Shake bottle well for 8-10 seconds.
Apply the glaze directly over the pastry products, or other items such as ice cream, pound cake, muffins, or donuts for decorative purposes.
Can also be applied to plated desserts to add and enhance the appearance and decoration.
SIZE:
500g
INGREDIENTS:
Glucose Syrup, Water, Sugar, Humectant (Glycerol E422), Thickener (E440, E406), Edible Glitter (0.5%), Preservative (E202), Acidity Regulator (E330)